Marine Record

Open Access
Records of five bryozoan species from offshore gas platforms rare for the Dutch North Sea
Marine Biodiversity Records
2016
9:91
Received: 13 June 2016
Accepted: 14 July 2016
Published: 11 October 2016
Abstract
This study reports on bryozoan species collected at three offshore gas platforms in the Dutch part of the North Sea. Four out of thirteen observed species are considered as rare in the Netherlands, whereas Cribrilina punctata is a new species for Dutch waters.
Keywords
Bryozoa
North Sea
Netherlands
Offshore
Gas platform
Cribrilina punctata
Arachnidium fibrosum
Electra monostachys
Scruparia ambigua
Scruparia chelata
Introduction
The Dutch continental shelf of the North Sea largely consists of sandy bottoms. Rocky substrates are only present on the Cleaver Bank (Schrieken et al. 2013), the Borkum Reef Grounds (Coolen et al. 2015) and the Texel Rough (personal observation J.W.P. Coolen). Furthermore, artificial hard substrates are formed by shipwrecks (Lengkeek et al. 2013a), wind farms (Lindeboom et al. 2011; Vanagt et al. 2013) and gas platforms (Van Buuren 1984; Van der Stap et al. 2015).
Bryozoa grow on various hard substrates such as rocks, shells, wood, and plastic material, but also on macroalgae and Hydrozoa (De Blauwe 2009). Previous observations of Bryozoa in the Netherlands concentrated on southern coastal areas (Faasse and De Blauwe 2004). Faasse et al. (2013) recently reviewed the list of known Dutch Bryozoa which now comprises a total of 58 marine and estuarine species. They excluded specimens found on beached material, but included fauna from several recent offshore surveys of the Cleaver Bank (Van Moorsel 2003), the Princess Amalia Wind Farm (PAWF; Vanagt et al. 2013) and a shipwreck on the sandy Dogger Bank (Schrieken et al. 2013).
This article reports on the finding of 13 bryozoan species on three offshore gas platform in the Dutch part of the North Sea. Of these species, Cribrilina punctata is new to the Dutch fauna, and four species are considered rare to the Dutch waters.
Materials and methods
The Bryozoa described here were observed during inventories of the fouling community of three stationary offshore gas platforms. The platforms differed in their distance from the Dutch shore, maximum depth and year of construction, and were sampled at different times during 2014 and 2015 (Table
1
). Macrofauna samples were taken from the platform foundation by a commercial diver using a putty knife to detach the organisms and a surface supplied airlift sampler to collect them. In the airlift, all organisms were sieved over a 500 μm mesh. Further details of the airlift sampler and collection methods are described in Coolen et al. (
2015
). Triplicate samples were taken at 5 m depth intervals between 0 and 25 m and from the scour protection rocks on the bottom. After collection samples were fixed in a 6 % formalin solution buffered with 2 g L
−1
borax. Following transport to the lab (between three and five days after collection) all organisms were conserved in 70 % ethanol until sorted by major taxonomic units and identified. All shells of
Mytilus edulis
, other biogenic hard substrates and the scour protection rocks were inspected for the presence of Bryozoa. Any detached colonies were identified as well.
Table 1
Three offshore gas platforms were visited during several inventories in 2014 and 2015. The platforms differed in their distance from shore, depth at the seabed and year of construction
| Platform | Location | Distance from shore (km) | Maximum depth (m) | Year of construction | Sampling date |
| --- | --- | --- | --- | --- | --- |
| L10-G | 53°29′N, 4°11′E | 70 | 26 | 1984 | June 2014 |
| L10-A | 53°24′N, 4°12′E | 48 | 27 | 1972 | April and June 2014, October 2015 |
| L15-A | 53°19′N, 4°49′E | 5 | 21 | 1992 | June 2014 |
For identification Hayward and Ryland (1998), Hayward and Ryland (1999) and De Blauwe (2009) were consulted. The World Register of Marine Species (WoRMS Editorial Board 2015) was used as a taxonomic standard. Specimens were observed using a Zeiss SteREO Discovery.V8 stereomicroscope. When a specimen was covered by a thin layer of organic material which impeded observing the zooids, it was immersed in bleach for half an hour, then rinsed and dried in order to reveal the calcified skeleton.
Results
In 35 samples, a total of 13 species of Bryozoa were observed (Table
2
). In ten samples no Bryozoa were encountered. Here, the findings of four species rare to Dutch waters and one new species for the Netherlands are described in more detail.
Table 2
Bryozoa species encountered on the platform legs and/or the scour protection rocks at the bottom of the platforms L10-G, L10-A and L15-A
Platform legs

Scour protection rocks

Species

L10-G

L10-A

L10-G

L15-A

Alcyonidioides mytili

x

x

x

Arachnidium fibrosum a

x

x

x

Aspidelectra melolontha

x

Callopora dumerilii

x

x

x

Celleporella hyalina

x

x

Conopeum reticulum

x

x

x

x

Cribrilina punctata a

x

Electra monostachys a

x

Electra pilosa

x

x

x

x

Microporella ciliata

x

Schizomavella linearis

x

x

x

Scruparia ambigua a

x

x

Scruparia chelata a

x

x
Five young colonies of the cheilostomatous
Cribrilina punctata
were found on three scour protection rocks of platform L10-G consisting of 10 to approximately 30 non-ovicellate zooids (Fig.
1
). A sub-oral bar with acute median mucro and 3–6 oral spines were present.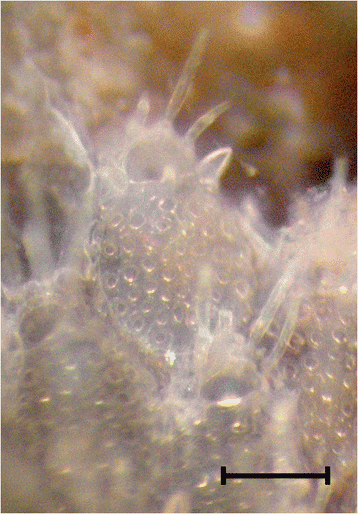 The ctenostomatous Arachnidium fibrosum was encountered in two samples taken from the foundation of platform L10-G at 10 m depth. Both colonies were attached to Mytilus edulis. Another colony of A. fibrosum was observed on a scour protection rock collected at the bottom of platform L15-A. Zooids were arranged in rows, and the colonies were sometimes branched.
A colony of Electra monostachys comprising several dozens of zooids was found on one of the scour protection rocks from platform L10-G. De Blauwe (2009) described a radiating crust as being characteristic for the species; this shape was also observed here. In addition to the relatively long proximal spine and pair of shorter distally located spines, almost all zooids still had their 4–6 pairs of shorter spines located around the frontal membrane.
Two members of the genus Scruparia were encountered. Scruparia ambigua was observed in one sample attached to M. edulis collected at 10 m depth at platform L10-G, but detached specimens were found as well. Several samples from platform L10-A taken between 5 and 15 m depth also contained a number of S. ambigua colonies. Scruparia chelata was observed at different depths (5–25 m) on platforms L10-G and L10-A, both as detached specimens and attached to M. edulis.
Declarations
Acknowledgements
This work was funded through the Wageningen UR TripleP@Sea Innovation programme (KB-14-007) and supported by GDF SUEZ E&P Nederland B.V., the Nederlandse Aardolie Maatschappij B.V., Wintershall Holding GmbH and EBN B.V. We are grateful to the staff of GDF SUEZ and the Bluestream dive team for their help during diving and sampling. The authors thank Naturalis Biodiversity Centre and the Natural History Museum Rotterdam for their cooperation in revising their specimens. We thank Britta Kind for her valuable comments on the manuscript and for providing data of several species records.
Authors' contribuions
JCo designed the study, carried out the sampling and created the maps. JCo, EB and JL handled the samples in the lab and prepared them for taxonomic determination. EB, BW, JCu, HB and JL performed the taxonomic determination. EB collected data on observations of species at other locations and drafted the manuscript. All authors read and approved the final manuscript.
Competing interests
The authors declare that they have no competing interests.
Open AccessThis article is distributed under the terms of the Creative Commons Attribution 4.0 International License (http://creativecommons.org/licenses/by/4.0/), which permits unrestricted use, distribution, and reproduction in any medium, provided you give appropriate credit to the original author(s) and the source, provide a link to the Creative Commons license, and indicate if changes were made. The Creative Commons Public Domain Dedication waiver (http://creativecommons.org/publicdomain/zero/1.0/) applies to the data made available in this article, unless otherwise stated.
Authors' Affiliations
(1)
Current address: Centre for Ocean Life, National Institute of Aquatic Resources (DTU Aqua), Technical University of Denmark, Charlottenlund, Denmark
(2)
Wageningen University & Research, Chair Group of Aquatic Ecology and Water Quality Management, Wageningen, The Netherlands
(3)
Maritime Department, Wageningen Marine Reseach, Den Helder, The Netherlands
(4)
Department of Invertebrates, Royal Belgian Institute of Natural Sciences, Brussels, Belgium
(5)
Van Hall Larenstein, Integrated Coastal Zone Management, Leeuwarden, The Netherlands